Birthday!
Yes, I am 29 today! Scary yes? Well, actually no. I don't feel 29, so I suppose that's a good thing yes?
I suppose you are wondering what I am doing with this pic on my page. Well, it came with my card this morning so I thought it would be worth putting up.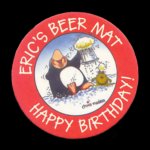 On other thoughts, we are now in the Dark of the Moon.
Comment by Haloscan:
|